I was flipping through my old drawing notebook and came across the below sketch I did of a lovesick tiger.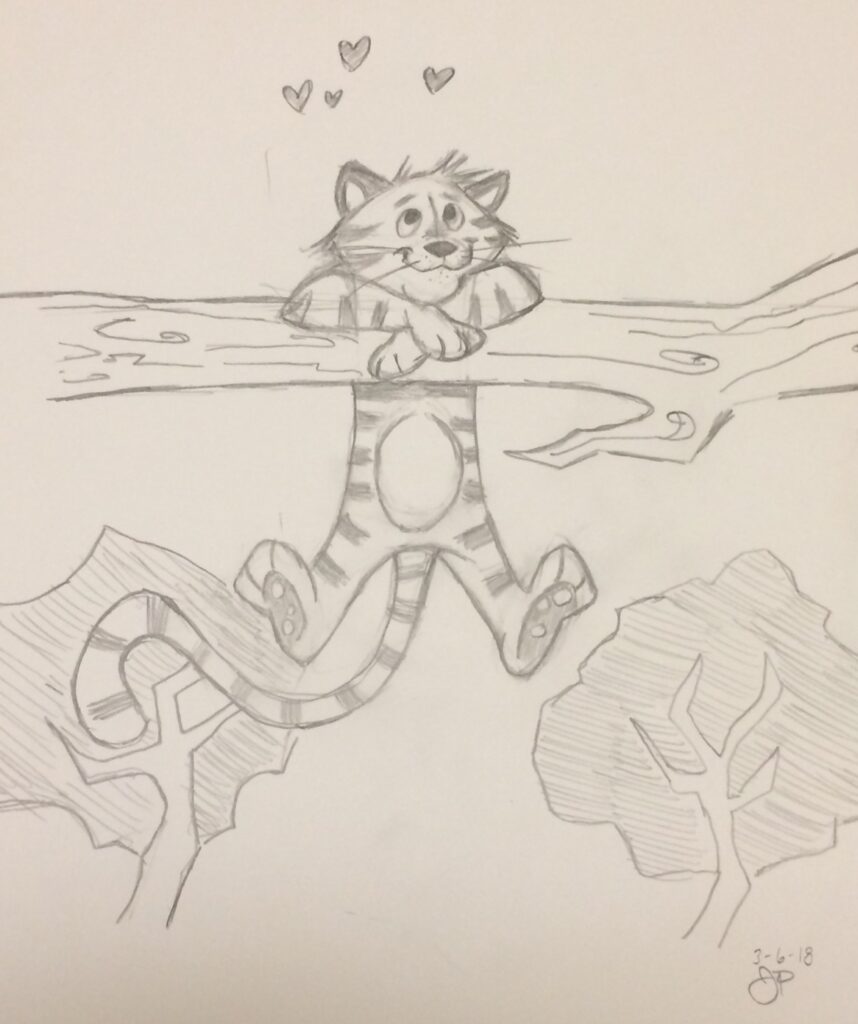 Lovesick tiger in a tree
This cartoon drawing isn't all that different from how I feel when I think of my wife Allison. The main difference being that I'm not good at climbing trees and I'm not a tiger. I typically put on pants when I'm outside, too. Typically.
I remember the day well when I drew this. I was awaiting my car to be finished up with its state inspection, thinking, "I'm pretty sure they are going to tell me I need new wiper blades, but otherwise I'm good to go."
About a dozen people were in the waiting area with me. Some were drinking coffee from the Keurig. Some were scrolling through their phones to pass the time.
There was a TV going in the waiting area. One detail I can't remember is whether the TV was blaring Fox News or MSNBC. They are two sides of the same coin really; and while different in their message, they cater to stoking outrage in their viewership, be it the left or the right; and they make vast amounts of money doing so. In other words, there was someone red in the face on TV yip yapping about the rapid decline of America because of [the Democrat or Republican party].
So, I put in headphones and broke out my drawing pad. A few minutes before the service guy came in and asked, "Is Jeffrey Pillow here?" I put the finishing touches on my lovesick tiger drawing. I then took a photo and texted it to my wife with the message:
Our wedding anniversary is coming up on June 20, which also happens to be Father's Day. In anticipation of both, I leave you with some additional reading material:
01.

I fell in love with my wife in high school, but thank goodness we never dated

It would have been a complete disaster. Here's why.
02.

A poem of immense depth to my wife

In celebration of our eleven year wedding anniversary on June 20, 2020.
03.

Slow down, time

As a parent, you learn how very real the saying "the days are long but the years are short" is.
04.

A father's letter to his children on Father's Day

A dad writes a love letter to his children on creativity, courage, laughter, and the importance of good dental hygiene.
---
P.S. I can't teach you how to draw a lovesick tiger. Christopher Hart, and his awesome books, can though. I have to give Mr. Hart (along with my kids) a lot of credit for reawakening the artist in me. I never drew cartoons when I was a younger.
I wish I could say otherwise, because it is way more fun than trying to draw super realistic artwork. And, it's likely I would have stuck with it, too.