About a decade ago, when my wife began her school counseling job in Charlottesville, we occasionally went out evenings with other young couples. This was pre-kids for all of us, most everyone engaged or newly married.
More times than not, the question "how did you two meet" would come up. As was often the case, when someone learns my wife and I went to high school together, they ask if we were high school sweethearts. To which I replied, "Oh, no, thank goodness. I would have totally ruined any semblance of a relationship if we had dated in high school."
Which is true. Boy, is it ever.
It's not that I had no desire to date my wife in high school, because I did at one point. It's just a good thing the universe kept us apart for as long as it did.
The seed of love for my wife was planted in me in ninth grade. Without her even knowing it, she helped nurture and water this seed that year during science class when she sat beside me. Only my friend Kate Hall* knew of this infatuation I had for Allison.
When my wife and I married nearly fifteen years later, we left a memory box alongside the guest book, so that those attending the wedding could write down a memory on a card they had of us together or individually. I still have Kate's note. This is what it said: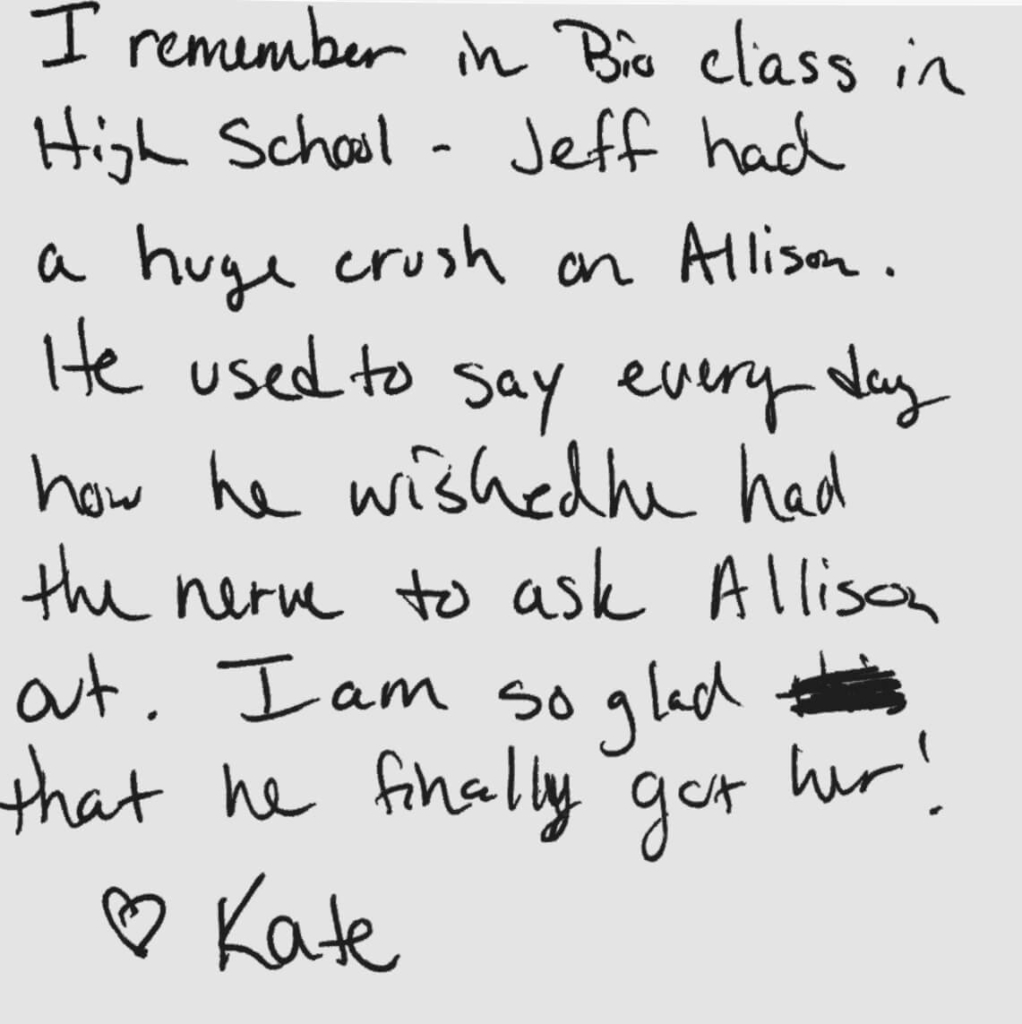 Kate left this note behind at our wedding
In contrast, my friend Andy wrote, "I remember when you made me bark for a piece of gum in Mrs. Clark's class in seventh grade.
About every guy I was friends with had a thing for my wife at some point (sorry suckers, you lose!), so I decided to keep mine secret—only Kate wasn't fooled because she witnessed my eyes light up every day in class when Allison walked in.
"There she is, Jeff," Kate would say, and give a laugh.
The year went on and the most courageous move I ever made in science class that year was sharing not a kiss with my future wife, but a mechanical pencil. She may have borrowed a sheet of paper, too. I know, I know—risqué.
The summer came, the summer went.
The following year, in tenth grade, when I learned I would once again be paired side by side in Mrs. Agee's class with Allison, I couldn't have been happier—only Allison never came to class nor sat beside me that year.
Life had other plans.
Read: Do You Not Know How Beautiful You Are?
The year passed. Summer came.
I never got the gumption enough to tell her and she never learned of my feelings for her, which worked out for the better. Had she not been sick that year, and had I eventually mustered up enough courage to ask her out (highly unlikely totally wasn't happening), the feelings I had for her would have been too much for her to withstand.
Sometimes it's best you test that out on someone else.
I was young and immature.
(One could argue that is still the case…)
(My wife)
The fact that I am almost a year younger than Allison as is wouldn't have helped.
I had terrible anxiety and was unaware of it. I battled recurrent bouts of depression and didn't know what this dark monster that I named "Every Third Friday" even was. And, I was soon to join the greatest cow pasture rock 'n roll band of all-time in Anti-Lou, and everybody knows how we pulled in the ladies with our sweet melodies, so that would have obviously been a conflict.
So, chalk one up to the universe for keeping us apart for nearly a decade.
As my friend Ricky used to say when referring to the universe—the circles, man.
That summer in 1997, my attention shifted to another girl; and Allison, who always had a penchant for older guys, started dating my good friend (and next door neighbor) Jeremiah. In all honesty, I was really happy for Jeremiah and even happier Allison was getting better. I was smitten myself and knew the time for Allison had come and gone, and I was okay with that.
Nine years passed.
Then, one day in 2006 before I started school at the University of Virginia, the dormant seed was re-activated as Allison and I found ourselves sitting together on the patio steps at a mutual friend's engagement party.
Without her even knowing it, she began watering the seed again, then out came the sun bringing its sunlight with it. The seed's roots formed and stretched out; branches would later grow, flowers bloomed—and so did my courage.
"I'm going to marry your sister," I texted Allison's sister Emily the next morning. "Watch."
Thanks for reading.
Photo by Evan Kirby on Unsplash
This post is filed under "Let Me Count the Ways," a series of vignettes and journal entries about my love for my wife. I know, super cheesy, huh? Share in the comments below how you met the love of your life.