Back in September, I was in a dark place, and had been for about six to eight months. Outside of my wife, I'm pretty sure everyone else was oblivious to this fact, which is a bit of a scary thought. But that's how it goes, right? I was severely depressed and experiencing suicidal thoughts, which is not something I'm used to, to say the least. Anxiety has always been the bag I carry, not this other shit.
To pause for a moment on the "suicidal thoughts" bomb I just dropped. I am not exaggerating for dramatic flair. This post, which I wrote on my birthday would also make a lot more sense to people now, too. I began keeping somewhat of a gratitude journal to combat these thoughts. So, when I say "suicidal thoughts," I mean that a voice kept whispering with a sharp tongue in my head words such as "I ought to kill myself," which is unlike anything I've ever experienced before. I've contemplated life and death before, but more from a philosophical slant, never in the way I experienced this past September.
Stress at work was astronomical. Feelings of isolation from friends and family on the personal front. Not my immediate family (wife and kids), but pretty much everyone else. I felt alone, worthless. There are people I was once close to that no longer exist, and there are those that exist on the periphery of my life I wish were less on the periphery and more in the primary or secondary tiers — at least from a communication standpoint, because I feel like some of these people get me, or at least, I can be me, no strings attached, with them. But life is life, and it doesn't always play out like we want it to. We grow up, we grow older, we grow apart for one reason or another. There are rules. There are restrictions.
In an effort to pull myself up by my bootstraps (moreso, the laces of my Vans), I made a conscious effort to get out in public more and meet new people. "I think it'll be good for me," I told my wife. She agreed. I also went out and purchased a handful of tiny notebooks to capture my thoughts as I worked my way through this dark time.
Below are handwritten notes verbatim from one such time when I made the decision to dine alone for lunch at Timberwood Grill. Before we jump in, I will say it was a good experiment to partake in, as I found humor in the act of dining alone.
SEPTEMBER 20, 2018
I am sitting here by myself drinking a craft beer, eating by myself, in an effort to be out in public surrounded by people more. I'm not sure if this is helpful for depression or depressing in and of itself. Results pending.
I have a new book by my side, Fortunate Son by Walter Mosley, after having finished Diablerie earlier today.
"Sweet Emotion" plays on the radio. Artist: Aerosmith.
People are clapping in the private dining area next to me. I assume they are applauding my efforts to crush depression.
Now, "Piano Man" by Billy Joel plays: "The waitress is practicing politics, but it's better than drinking alone." Thanks Billy. Very uplifting.
Eating: Cashew Chicken Salad.
If you want to be a writer, you have to look the part and act the part, and sitting here now, by myself, with a tiny notebook, ink pen, and a book, eating alone, I'd say I check all the boxes. Good job, self.
Janis Joplin on now. "(Take Another Little) Piece of My Heart."
My dad once said there was no one alive, man or woman, that could sing like Janis Joplin. That she put her heart and soul into every word that came from her throat.
My waitress abandoned me long ago — perhaps she's practicing politics. One person eating alone probably doesn't make for a substantial tip. It's a shame she doesn't know I'm a very good tipper. I could probably walk right out the front door without paying. Of course, I wouldn't do that; but the thought of consumer rebellion occurs, nonetheless.
"Cocaine," by Eric Clapton is playing now.
I hope this music isn't trying to tell me something.
If you enjoyed what you just read, help others find it on the web. I'm no longer on Facebook, but if you still are, consider sharing it there. You can also copy and paste the link in the url above and send it to friends and family by text and email. Also, read "Perhaps You Should See a Counselor," which I not only wrote for those reading this blog battling mental health issues, but as a reminder for me as well. Returning to my counselor was another such step I took to crush the severe depression I was experiencing at the time. Maybe you should consider it too.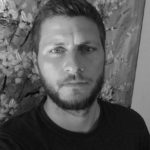 Written by Jeffrey Pillow, author of the coming-of-age memoir in progress When the Lights Go Out at 10:16, which you can read on this blog as it's being written. When the Lights Go Out at 10:16 is a story of growing up in small town America in the 1980's in a teeny tiny town known as Phenix, in Charlotte County, Virginia. It is a story of life and friendship in the face of terminal cancer. Want to read more blog posts? Visit the blog archive. You can also subscribe to this blog to receive updates of new posts by email.