[stag_dropcap font_size="75px" style="squared"]I[/stag_dropcap]'ve decided to try something a smidgen different on my blog. That is, offer you the author's point of view on writing a full length memoir such as When the Lights Go Out at 10:16. Writing can often be a lonely process, so this is me opening the door of my world to you. Today's perspective relates to why I chose the title I did for When the Lights Go Out at 10:16. But first, a short summary of what the book is about.
Summary of When the Lights Go Out at 10:16
In the summer of 2003, one of my close childhood friends and next door neighbor, Jeremiah Hamlett, from Phenix, Virginia, was diagnosed with terminal brain cancer. The night I received word of his diagnosis, I went over to the basketball court across the street from my house and Jeremiah's and sat in my car with a green notebook pressed against the steering wheel of my car, and began writing. This is the story of our childhood growing up in small town America in Charlotte County, Virginia. This is the story of life and friendship in the face of cancer.
The symbolic meaning behind the title of my memoir
For quite some time, When the Lights Go Out at 10:16 was aptly named The Court: Jeremiah's Story, after the basketball court in Phenix, Virginia, where we all lived out our days in childhood. Shortly after Jeremiah passed in January 2007, I changed the title to what it currently is today to reflect Jeremiah's death. He was "going home," you could say. It was meant symbolically.
You see, 10:16 was not the time of day Jeremiah passed. 10:16 was the time of night when the lights at the basketball court in Phenix would turn off like clockwork, and we, as kids, would stand from where we were seated on the court and make our way home.
"Welp, must be 10:16," Kevin would often say.
And then Robbie and Kevin would make their way one direction toward Park Street, the Tucker boys in another toward Charlotte, and Jeremiah and I, who lived across the street from each other on Church, would walk up the small hillside toward our homes.
As we grew to be young teenagers, the particular time was sort of a running joke for those of us who grew up in Phenix whenever someone from another town happened to be there when the lights went out.
"You mean 10:15," someone would say.
"No," we would reply in unison. "Dexter set it for 10:16. Check your watch. 10:16 on the money."
On a daily basis, during dinner time, my mom would stick her head out the front door and yell, "Jeff! Time to eat."
And I would do one of two things: at the end of the game, I'd run home, grab my plate, and eat at the basketball court in between games, or I'd yell back, "I'll eat at 10:16."
So goes the significance of 10:16 as it relates to the story's title.
If you were to drive by the basketball court in Phenix, to the passerby it wouldn't seem like much—not back then, not now. They might see but a cracked blacktop with two wooden backboards and rusted red rims on opposite ends. To us, it is where our childhood was birthed, where lifelong friendships were formed. Where the lights went out at 10:16.
And, where our shadows still exist in another dimension, playing a game of two-on-two to 50, win by four. Check ball.
If you enjoyed what you just read, help others find it on the web. I'm no longer on Facebook, but if you still are, consider sharing it there. You can also copy and paste the link in the url above and send it to friends and family by text and email.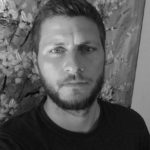 Written by Jeffrey Pillow, author of the coming-of-age memoir in progress When the Lights Go Out at 10:16, which you can read on this blog as it's being written. When the Lights Go Out at 10:16 is a story of growing up in small town America in the 1980's in a teeny tiny town known as Phenix, in Charlotte County, Virginia. It is a story of life and friendship in the face of terminal cancer. Want to read more blog posts? Visit the blog archive. You can also subscribe to this blog to receive updates of new posts by email.