Sometimes you know the victim on the news,
­   the water that carried him away.
You played ball together, for as long as you can remember,
­   And shared similar birthdays.
You knew his mom, and that side-eyed grin she'd give you
­   And the water that swept her away.
­ "Keeper of the score," you called her
­   And then, "Put an extra two points on the board,"
­ You'd say to her before tip-off of the game.
­   "Go on, get out of here," she'd respond.
­   "It's time to play."
Rest in peace Ronnie and Ruby. I can still see your smile, and your mom's too. Thank you to all in Charlotte County who helped save Ronnie's son. I remember how proud Ronnie was after his son was born. I can still see him all these years ago, walking in to the gym at Charlotte Court House, with a big smile on his face, his baby wrapped in a blanket in his arms, and the big smile on Ruby's face when she saw him approach.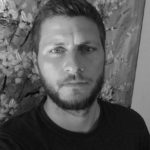 Written by Jeffrey Pillow, author of the coming-of-age memoir in progress When the Lights Go Out at 10:16, which you can read on this blog as it's being written. When the Lights Go Out at 10:16 is a story of growing up in small town America in the 1980's in a teeny tiny town known as Phenix, in Charlotte County, Virginia. It is a story of life and friendship in the face of terminal cancer. Want to read more blog posts? Visit the blog archive. You can also subscribe to this blog to receive updates of new posts by email.