(Last updated October 11, 2017)
In the summer of 2003, one of my close childhood friends and next door neighbor, Jeremiah Hamlett, from Phenix, Virginia, was diagnosed with terminal brain cancer. The night I received word of his diagnosis, I went over to the basketball court across the street from my house and Jeremiah's and sat in my car with a green notebook pressed against the steering wheel of my car, and began writing. This is the story of our childhood. This is the story of life and friendship in the face of cancer.
Bookmark this page to follow along to When the Lights Go Out at 10:16 as it is being written and revised.
If you enjoy what you read, consider a charitable contribution on the SVCC Foundation's website and help me raise $10,000 to make the Jeremiah Hamlett Memorial Scholarship Fund perpetual for years to come. Your donation is secure. Learn more about how this story will fund the scholarship fund at this link.
To ensure your donation goes to Jeremiah's scholarship fund, you'll need to type "Memo: Jeremiah Hamlett Memorial Scholarship Fund" where it says "Add special instructions to the seller."
I am personally donating $500. My challenge to you is to donate whatever you can—whether that's $5, $10, $25, $50, or $100 (or more).
Subscribe for free to get updates of new posts by email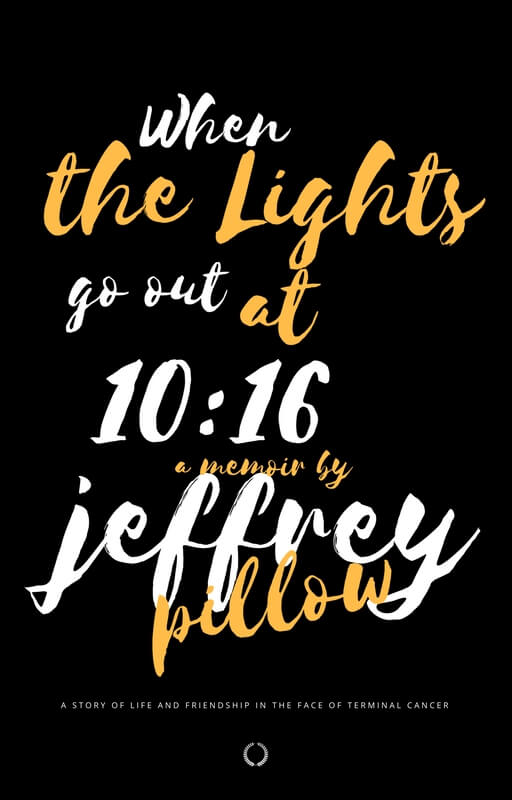 DEDICATION
For Jeremiah and our friends and to the childhood we experienced together
I asked a hummingbird about what was wrong
Why with other birds it didn't join and sing a song?
It put me squarely in my place
And said with a very straight face,
To their songs I enjoy humming along.
—RALEIGH D. MEADOW
FOREWORD
Kevin Hancock, September 2006
For the past couple of years, ever since Jeremiah was diagnosed, I have thought the same exact things that I have just read. Every day now I think about Rob, Jeremiah, you, and myself and all of what we did as kids.
I remember when you and Rob and Jeremiah got caught on the tracks when the train was coming, and to this day I don't think you've ever gotten back on them. As dumb as it may sound, I wish I would have been there with y'all.
You know as well as I do that we all looked up to Rob and Jeremiah for everything. I was lucky enough to have one of them as my brother, but I have always and will always consider you and Jeremiah my brothers as well.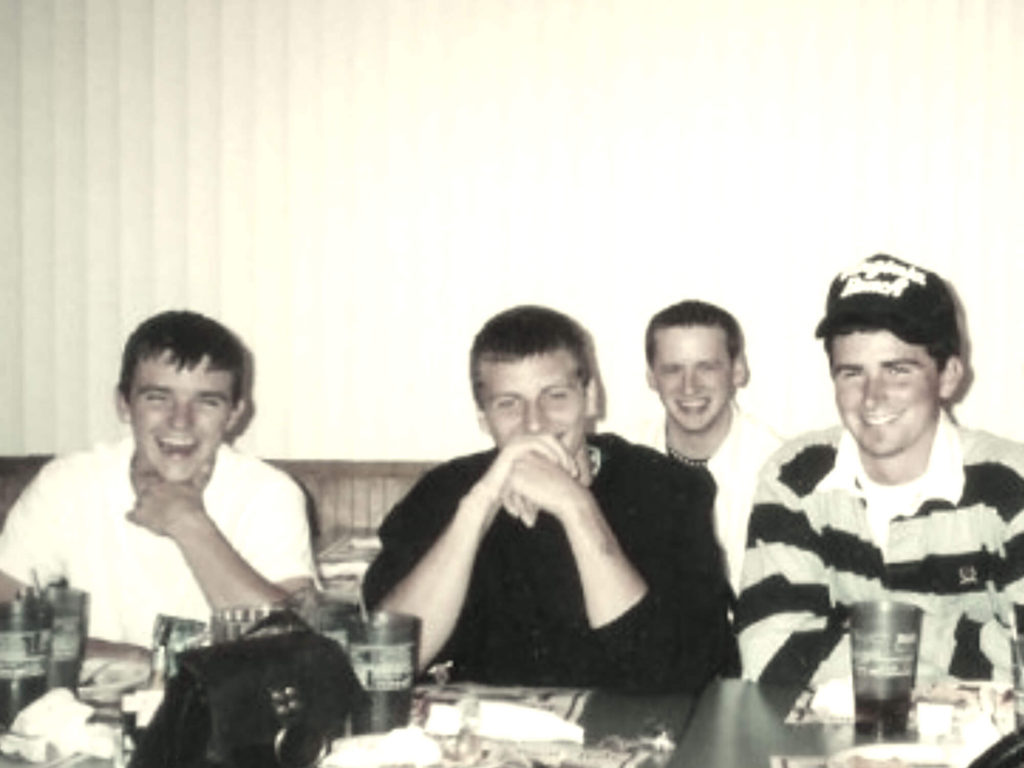 INTRODUCTION
About the title
For quite some time, WHEN THE LIGHTS GO OUT AT 10:16 was aptly titled THE COURT: JEREMIAH'S STORY, after the basketball court in Phenix, Virginia, where we all lived out our days in childhood.
Shortly after Jeremiah passed in January 2007, I changed the title to what it currently is today to reflect Jeremiah's death. He was "going home," you could say. It was meant symbolically.
You see, 10:16 was not the time of day Jeremiah passed. 10:16 was the time of night when the lights at the basketball court in Phenix would turn off like clockwork, and we, as kids, would stand from where we were seated on the court and make our way home.
"Welp, must be 10:16," Kevin would often say.
And then Robbie and Kevin would make their way one direction toward Park Street, the Tucker boys in another toward Charlotte, and Jeremiah and I, who lived across the street from each other on Church, would walk up the small hillside toward our homes.
As we grew to be young teenagers, the particular time was sort of a running joke for those of us who grew up in Phenix whenever someone from another town happened to be there when the lights went out.
"You mean 10:15," someone would say.
"No," we would reply. "Dexter set it for 10:16. Check your watch. 10:16 on the money."
On a daily basis, during dinner time, my mom would stick her head out the front door and yell, "Jeff! Time to eat."
And I would do one of two things. At the end of the game, I'd run home, grab my plate, and eat at the basketball court between games or when the ball rolled down the hill and there was a stoppage in play, or I'd yell back, "I'll eat at 10:16."
If you were to drive by the basketball court in Phenix, to the passerby it wouldn't seem like much—not back then, not now. They might see but a cracked blacktop with two wooden backboards and rusted red rims on opposite ends. To us, it is where our childhood was birthed, where lifelong friendships were formed. It's where our shadows still exist in another dimension, playing a game of two-on-two to 50, win by four. Check.
About the structure of the story
This story isn't meant to be a linear work, nor is it meant to be a [quote] "cancer story." It is a quilt of sorts, patched together at times with vignettes.
From the french word meaning "little vine," a vignette is a literary device that is neither plot nor full narrative description that is employed to present a particular scene or create a descriptive passage, allowing the author to remember a memory visually and sensually without necessarily unpacking the full 'why' behind the scene or passage. An example of this you will see in WHEN THE LIGHTS GO OUT is the "train tracks scene."
While part of the story focuses on Jeremiah's diagnosis, childhood memories are interwoven to bring attention to what was, what is, and will always be the most important takeaway: that cancer can destroy a person's immune system and can even take him or her away from us physically forever, but it cannot take away our memories, our friendships, or our love.
Part I focuses on the original diagnosis. Part II's origins are with the return of the tumor. Part III is the aftermath.
This isn't a biography
WHEN THE LIGHTS GO OUT AT 10:16 isn't a biography—not of Jeremiah, not of me. It is a coming-of-age memoir that comes from my perspective; and I think this is important to note. I say this because I can only tell this story from my point of view. I cannot go into detail all of the results of Jeremiah's tests or every fine detail of what Jeremiah thought or experienced as he battled brain cancer. Much of what Jeremiah went through was very personal that only he knew or his family privy to. I only know what I know or what he or his family shared with me.
The personal aspect of cancer, however, I can understand to a degree—at least from the perspective of a family member, specifically as a son who has seen his own dad stricken with stage IV appendiceal cancer, and then again, ten years later, with acute myelogenous leukemia.
There is a scene early on in the story when Jeremiah has the initial seizure while at work. Being that I'm not an accountant—that's a truer statement if I've ever heard one—and I wasn't with Jeremiah when the seizure took place, I drew upon the only other experience I had when someone seized.
When I was in sixth grade in Ms. Bates' class at Central Middle School in Charlotte Court House, Virginia, I had a classmate named Priscilla.* It wasn't uncommon for Priscilla to have a seizure while in class. Another of my classmates, Keith Hatcher, always seemed to be the first on the floor to help her. He'd prop her up and keep Priscilla from banging her head on any of the desks or from biting into her tongue.
Occasionally, out of the blue, I think of this time in sixth grade and how heroic Keith was despite being so young—as young as the rest of us who stood by perplexed and frozen, not knowing what to do.
When I sent Jeremiah the story when his cancer returned in July 2006, I prefaced my letter to him by saying that I knew that this scene, in particular, may not be accurate, that I had written it based on my experience in seeing Priscilla having a seizure all those years ago in sixth grade. Jeremiah's depiction in this scene was largely a mirror image of how Priscilla acted when a seizure came on.
Jeremiah responded in a very Jeremiah way, by saying it was okay, that he didn't care, and to "leave it in." He went on to say jokingly that he had no idea what happened anyway because he had blacked out.
*Sadly, Priscilla was later diagnosed with and died from a brain tumor
Bookmark this page and check back often for updates…