Bookmark this page and check back often for updates…
In the summer of 2003, one of my close childhood friends and next door neighbor, Jeremiah Hamlett, from Phenix, Virginia, was diagnosed with terminal brain cancer. The night I received word of his diagnosis, I went over to the basketball court across the street from my house and Jeremiah's and sat in my car with a green notebook pressed against the steering wheel of my car, and began writing. This is the story of our childhood growing up in small town America. This is the story of life and friendship in the face of cancer.
Bookmark this page to follow along to When the Lights Go Out at 10:16 as it is being written and revised.
If you enjoy what you read, consider a charitable contribution on the SVCC Foundation's website and help me raise $10,000 to make the Jeremiah Hamlett Memorial Scholarship Fund perpetual for years to come. Your donation is secure. Learn more about how this story will fund the scholarship fund at this link.
To ensure your donation goes to Jeremiah's scholarship fund, you'll need to type "Memo: Jeremiah Hamlett Memorial Scholarship Fund" where it says "Add special instructions to the seller."
I am personally donating $500. My challenge to you is to donate whatever you can—whether that's $5, $10, $25, $50, or $100 (or more).
Subscribe for free to get updates of new posts by email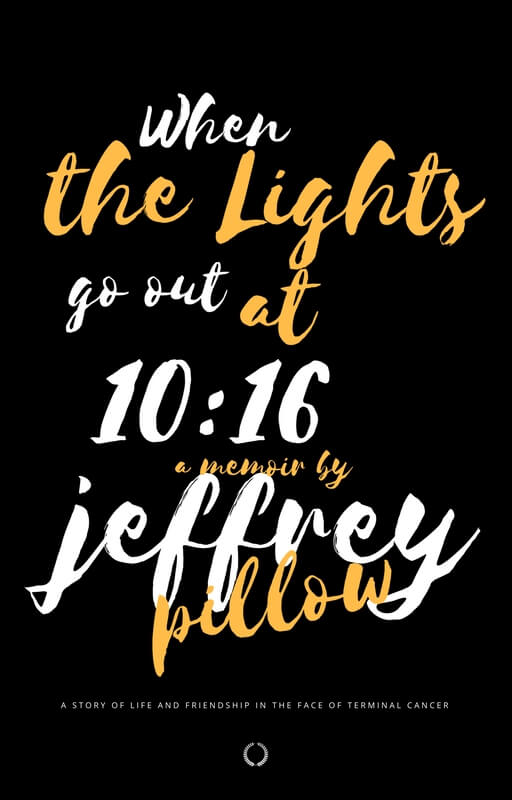 DEDICATION
For Jeremiah and our friends and to the childhood we experienced together
I asked a hummingbird about what was wrong
Why with other birds it didn't join and sing a song?
It put me squarely in my place
And said with a very straight face,
To their songs I enjoy humming along.
—RALEIGH D. MEADOW
FOREWORD
Kevin Hancock, September 2006
For the past couple of years, ever since Jeremiah was diagnosed, I have thought the same exact things that I have just read. Every day now I think about Rob, Jeremiah, you, and myself and all of what we did as kids.
I remember when you and Rob and Jeremiah got caught on the tracks when the train was coming, and to this day I don't think you've ever gotten back on them. As dumb as it may sound, I wish I would have been there with y'all.
You know as well as I do that we all looked up to Rob and Jeremiah for everything. I was lucky enough to have one of them as my brother, but I have always and will always consider you and Jeremiah my brothers as well.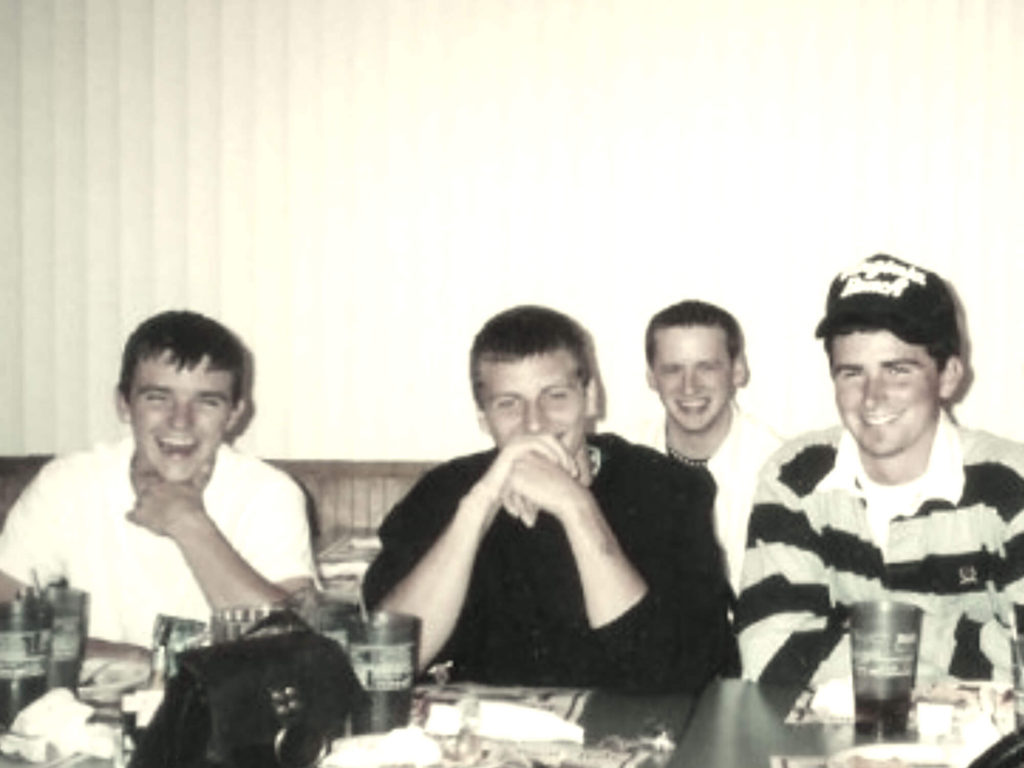 INTRODUCTION
About the title
For quite some time, WHEN THE LIGHTS GO OUT AT 10:16 was aptly titled THE COURT: JEREMIAH'S STORY, after the basketball court in Phenix, Virginia, where we all lived out our days in childhood.
Shortly after Jeremiah passed in January 2007, I changed the title to what it currently is today to reflect Jeremiah's death. He was "going home," you could say. It was meant symbolically.
You see, 10:16 was not the time of day Jeremiah passed. 10:16 was the time of night when the lights at the basketball court in Phenix would turn off like clockwork, and we, as kids, would stand from where we were seated on the court and make our way home.
"Welp, must be 10:16," Kevin would often say.
And then Robbie and Kevin would make their way one direction toward Park Street, the Tucker boys in another toward Charlotte, and Jeremiah and I, who lived across the street from each other on Church, would walk up the small hillside toward our homes.
As we grew to be young teenagers, the particular time was sort of a running joke for those of us who grew up in Phenix whenever someone from another town happened to be there when the lights went out.
"You mean 10:15," someone would say.
"No," we would reply. "Dexter set it for 10:16. Check your watch. 10:16 on the money."
On a daily basis, during dinner time, my mom would stick her head out the front door and yell, "Jeff! Time to eat."
And I would do one of two things. At the end of the game, I'd run home, grab my plate, and eat at the basketball court between games or when the ball rolled down the hill and there was a stoppage in play, or I'd yell back, "I'll eat at 10:16."
If you were to drive by the basketball court in Phenix, to the passerby it wouldn't seem like much—not back then, not now. They might see but a cracked blacktop with two wooden backboards and rusted red rims on opposite ends. To us, it is where our childhood was birthed, where lifelong friendships were formed. It's where our shadows still exist in another dimension, playing a game of two-on-two to 50, win by four. Check.
About the structure of the story
This story isn't meant to be a linear work, nor is it meant to be a [quote] "cancer story." It is a quilt of sorts, patched together at times with vignettes.
From the french word meaning "little vine," a vignette is a literary device that is neither plot nor full narrative description that is employed to present a particular scene or create a descriptive passage, allowing the author to remember a memory visually and sensually without necessarily unpacking the full 'why' behind the scene or passage. An example of this you will see in WHEN THE LIGHTS GO OUT is the "train tracks scene."
While part of the story focuses on Jeremiah's diagnosis, childhood memories are interwoven to bring attention to what was, what is, and will always be the most important takeaway: that cancer can destroy a person's immune system and can even take him or her away from us physically forever, but it cannot take away our memories, our friendships, or our love.
Part I focuses on the original diagnosis. Part II's origins are with the return of the tumor. Part III is the aftermath.
This isn't a biography
WHEN THE LIGHTS GO OUT AT 10:16 isn't a biography—not of Jeremiah, not of me. It is a coming-of-age memoir that comes from my perspective; and I think this is important to note. I say this because I can only tell this story from my point of view. I cannot go into detail all of the results of Jeremiah's tests or every fine detail of what Jeremiah thought or experienced as he battled brain cancer. Much of what Jeremiah went through was very personal that only he knew or his family privy to. I only know what I know or what he or his family shared with me.
The personal aspect of cancer, however, I can understand to a degree—at least from the perspective of a family member, specifically as a son who has seen his own dad stricken with stage IV appendiceal cancer, and then again, ten years later, with acute myelogenous leukemia.
There is a scene early on in the story when Jeremiah has the initial seizure while at work. Being that I'm not an accountant—that's a truer statement if I've ever heard one—and I wasn't with Jeremiah when the seizure took place, I drew upon the only other experience I had when someone seized.
When I was in sixth grade in Ms. Bates' class at Central Middle School in Charlotte Court House, Virginia, I had a classmate named Priscilla.* It wasn't uncommon for Priscilla to have a seizure while in class. Another of my classmates, Keith Hatcher, always seemed to be the first on the floor to help her. He'd prop her up and keep Priscilla from banging her head on any of the desks or from biting into her tongue.
Occasionally, out of the blue, I think of this time in sixth grade and how heroic Keith was despite being so young—as young as the rest of us who stood by perplexed and frozen, not knowing what to do.
When I sent Jeremiah the story when his cancer returned in July 2006, I prefaced my letter to him by saying that I knew that this scene, in particular, may not be accurate, that I had written it based on my experience in seeing Priscilla having a seizure all those years ago in sixth grade. Jeremiah's depiction in this scene was largely a mirror image of how Priscilla acted when a seizure came on.
Jeremiah responded in a very Jeremiah way, by saying it was okay, that he didn't care, and to "leave it in." He went on to say jokingly that he had no idea what happened anyway because he had blacked out.
*Sadly, Priscilla was later diagnosed with and died from a brain tumor
Speak, memory
Memoir is defined as a biography written from personal knowledge of one's memory of certain events or people, particularly one's own. I tend to think of memoir in a slightly different manner, which is to say that memoir investigates life's universal themes under the guise of one's memory.
Even now, years later, I carry fond memories of Jeremiah with me everywhere I go — and I can say, with certainty, that many of his friends and family still do as well.
I learned a great deal from this unfortunate experience: about myself, about friendship, love, loss, the power of memory. And, I hope the words you read capture this.
When I began writing When the Lights Go Out at 10:16, I never intended for it to get out. I never intended for it to be an actual story in the first place. It began as a single paragraph journal entry in a green notebook I used to keep in my car in case a poem came along unexpectedly.
The weight of Jeremiah's diagnosis I did not comprehend at the time.
We were young.
We were invincible.
Death nor disease nor malady could touch us.
He'd beat this thing — whatever it was that had taken up residence in his brain matter.
We'd all live happily ever after — THE END.
But sometimes life has other plans despite our own.
CHAPTER 1 – THE GHOSTS OF CHILDHOOD
July 2003
It was 11:30 p.m. on a Friday night as I sat alone in my car at the basketball court. The lights had already gone out at 10:16, like clockwork, as they had for years.
Abandoned by the false twin moons, The hummingbird moths had vacated the area over an hour before, no longer dancing atop the wooden guardians that stood along the edge of half court. The crickets crept into my consciousness playing their nighttime lullabies, as the old streetlight next to the stop sign that no one ever stopped at flickered. The light shone bright, then darkened.
The engine of my car was silent, the night air thin as I peered down the hillside leading to the basketball court. A story began to tell itself as I stared at the blacktop's deep-rooted cracks that had opened up more and more as each year passed, fading into the black of the near midnight scenery wrapped around me . . . into the twilight of yesterday, into the nightfall of youth, of childhood.
At that moment, I began to see and hear the ghosts of my childhood. These images were visible as if at hand only yesterday, and they winked one after the other in my mind's eye like white stars sewn into the black velvet of the summer's night sky.
"You only get two shots," a child's voice called into the night. "Don't choke. If you miss the second, you have to go . . . all . . . the way . . . BACK . . . to Virginia."
"I won't," another child's voice said. "There's some paper and a pen on the top of the microwave in my house if you'd like to take notes."
The thin, lanky figure stepped to a chink in the gray-black pavement that opened like the veins of a broken waterway, spilling horizontally across the basketball court. He bent his knees. His eyes searched for a direct line to the back of the rusted hoop, and he released a jump shot. The flick of his wrist made a popping sound as his fingers pointed straight ahead. Textbook release.
The basketball found its peak then fell downward from the sky…
He stepped to the next marker.
Each open crack in the blacktop marked a different city, a different state, a different destination we sought to go leaving this small town behind. Only one of us had accomplished the feat of going Around the World in sixteen shots or less without missing consecutive field goals. If anyone would ever escape, it would be him.
"Is the bank open today? Oh, I believe it is."
And the basketball kissed the side of the backboard.
"You still have time," the voice said. "Notebook and pen is on top of the microwave."
I turned my head to the right. A slight crick in my neck forced my body to carry out the rest of the motion. A row of pine trees loomed in the foreground.
Pillars of time.
In the background stood the house where Jeremiah had grown up. Though the colors of his home had fled with dusk, I knew the shades and tints as if it were my own: the siding the color of eggshells, the shutters a shade of maroon. I turned back and once again found my concentration at the base of the hillside, staring at the grayish-black pavement of the basketball court where so many memories of ours had been birthed since childhood. Their origins and roots were firmly planted in the blacktop surface of the court. I bore witness to infantile and adolescent infractions long forgotten; or, so I had thought.
Footsteps pattered.
The sound of laughter and youthful banter went on endlessly.
Acorns and walnuts swarmed the air like a plague of locusts.
The cogent stature of childhood was intact—be it the memory of my friends and I as barefooted seven-and eight-year-olds pedaling mercilessly with scuffed up and scarred shins and shoeless feet; or, as ten-and eleven-year-olds shooting off the hillside that lay adjacent to the swimming pool on a wooden Radio Flyer sled in January, the metal runners sometimes veering off-course to the right into the rusted barbed wire fence of Bobby Canada's cow pasture that never seemed to cut a single soul.
Not a memory had escaped me.
And then I began to cry.
CHAPTER 2 – WELCOME TO PHENIX
A Nice Place to Live
There used to be a sign as you entered town that read in a big bold font, "Welcome to Phenix, Virginia: A Nice Place to Live." When I was in high school, this sign hung above my headboard in my bedroom until one night, around 3 a.m., it came crashing down on me as I slept.
If you were a Charlotte County cop or state police in the mid-to-late 90s, you may be thinking I stole this sign. (No offense, but you guys lived at my house for two straight summers based solely on hearsay) While me stealing the sign may fit the image of the green haired, hard-nosed criminal for which I was portrayed, I'm sorry to tell you, I didn't steal this sign (or anything else I was accused of stealing or destroying during this time). I saw the Welcome to Phenix sign uprooted from the ground, displaced to make way for the new sign, laying on its side behind the municipal building, and my dad asked the mayor at the time if I could have it, and he obliged.
Here's the thing: even though when I grew up I left Phenix behind, Phenix has always held a special place in my heart—more than simple nostalgia provides. It's hard to describe it really. Not to sound all back in my day about it, but Phenix, Virginia, was different back then than it is now.
So, it's hard to tell a story and cast Phenix as merely a setting or somewhere a story takes place. Phenix, all 1.158 square miles of it, is more than setting. Phenix is a character in this yarn I'm about to tell—and it's important I say that up front because you can't understand the rest of us characters without understanding a little bit about a small town in southern Virginia known as Phenix, in Charlotte County, Virginia.
A brief history of Phenix, Virginia
Main Location: Phenix, Virginia
Country: United States
State: Virginia
County: Charlotte
Area: 1.158 square miles
Population: 226 (2010 census)
Median family income: $34,583
Fun Fact: There isn't a single stoplight in Phenix or all of Charlotte County — not then (1980s and 90s), not now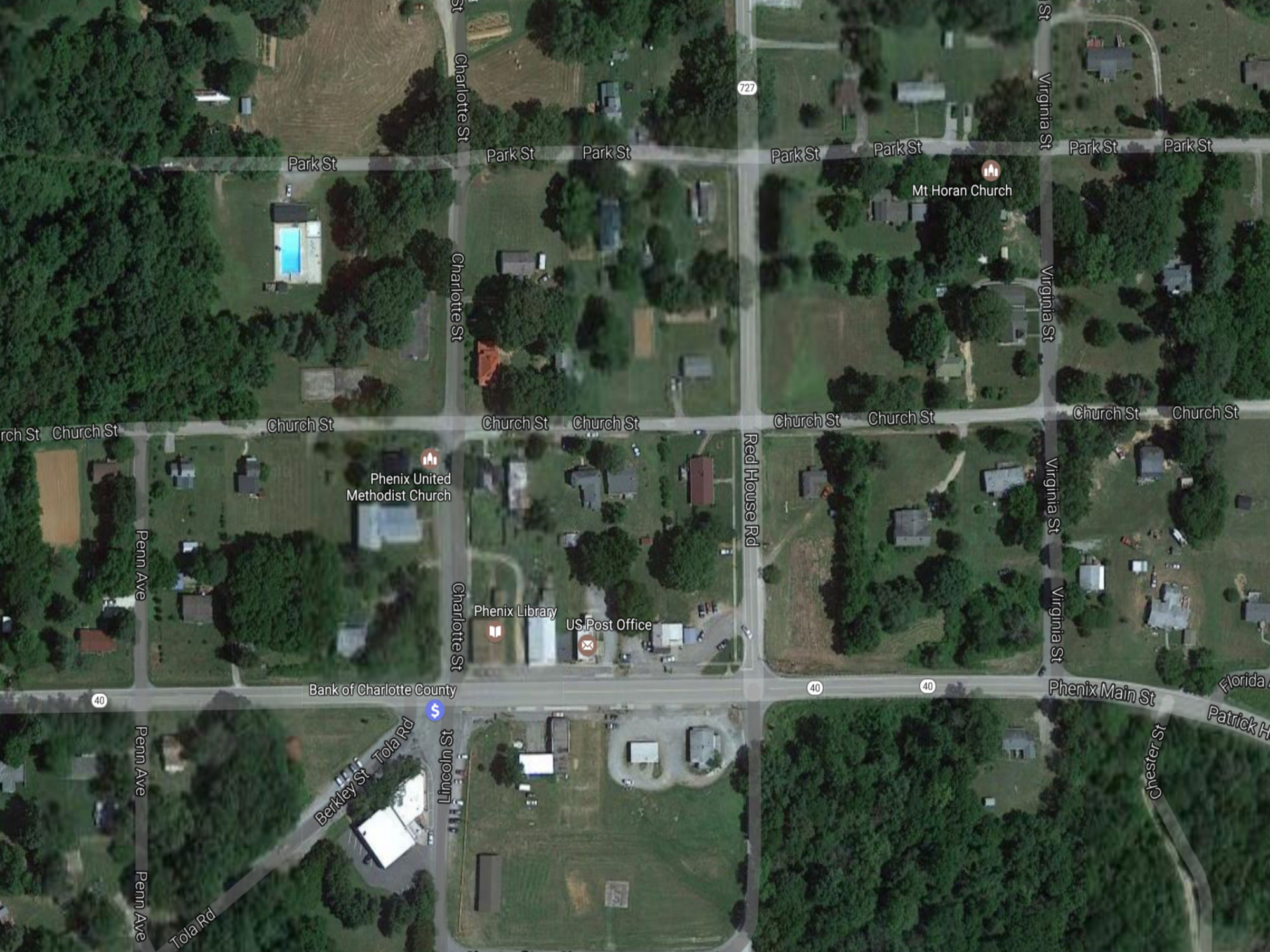 Phenix began as a hog lot owned by S.C. Daniel in 1905. Then, in 1906, in anticipation of the Virginian railroad being constructed and passing through Charlotte County, a group of businessmen from the Home Development Company from nearby Farmville, Virginia, bought up land. By 1908, Phenix was surveyed and established with streets laid out and sold to local businessmen to start new enterprises within the town's limits. A town was born.
Eyeing potential profits from the coming railroad, sawmills came to town, as did tobacco warehouses, including S.C. Chamberlyne's Leaf Tobacco Company, a large tobacco factory built in 1911. Traveling medicine shows came by railcar entertaining the townspeople for two weeks at a time before hitting the rails again. A school was built. A livestock market opened. A volunteer fire department was established.
It's strange to think of Phenix as a place of opportunity—even on a small scale. Yet, seventy five years before I was born, it was just that. Structural remnants of these bygone opportunities existed in my youth. At the ball field, the feed tower loomed, its rickety metal ladder leading up high that us kids climbed as our dads tried to re-create their own glory days, playing in weekend softball tournaments. Once up high, the square black pool at the base of the ladder reflected below and became the recipient of our spit as the black water rippled to the sides.
The livestock market was a happening place on the weekends, and though we didn't own any cattle or other farm animals, I went here often with my dad. Thirty odd years later, I can still smell the manure as vividly as back then. Mmmm!
It was also a place of potential peril we were advised as we stood next to the hog pin one Saturday morning before an auction was to take place.
"They'll bite off your toes," Robbie's mom Joanne told us. "Especially the babies."
We all stepped back a few inches, continuing to peer over the rounded red gate of the pin, our toes curled under the balls of our feet tucked in our shoes.
Even in my teenage years, the loft of the axe handle factory still existed, an unsound structure if there ever was one, transforming into a scene of cigarette smoking and other foolishness hidden from our parents.
These structures none exist now, having been torn down due to their potential for insurance perils; but for many of us growing up in the 1980s, if we close our eyes hard enough, we can still see the feed store next to the bank prior to its building expansion.
With all that said, there's one central location that was constructed that was the hub for most memories of my youth…
The basketball court
In the late 1980s and early 1990s, the basketball court was always jammed pack, particularly on Sunday. Pick-up trucks and cars lined the hillside and there was overflow parking in the tiny football field (as it was purposed by us kids in the 1980s). Both ends of the basketball court had three-on-three basketball games taking place with new teams laying wait on the bank when the loser was escorted off the court.
Blue jeans and flannel shirts and ratty white Reeboks adorned bodies that twisted in mid-air for a lay-up or a rebound ricocheted off the rim. Young women in short shorts and sun dresses laid on the hillside and watched their boyfriends or young husbands. Inside Robbie Canada's pick-up truck parked behind the near-end hoop the NASCAR race came through the stereo's speakers. If ever there was a serious pile-up around turn whatever, there was a stoppage in play on the basketball court in Phenix thousands of miles away.
This was a common Sunday in Phenix back then. Today, not so much. But back in the late 80s and 90s, the basketball court was grand central station for a friendly game of basketball—and perhaps a beer or two in between games.
***
Looking from the outside in, there is nothing spectacular about Phenix, Virginia. If anything, if you forced someone unaccustomed to a town of this size to purchase a home here, one with teenage children especially, the call and response would be that Phenix is "boring . . . that there's nothing to do."
If you look at the aerial photo, you'll see the center of town where the bulk of residents live, and even in that, you'll notice mostly trees and few homes. Even the census number is bloated because it accounts for people who live on the town's outskirts.
Save for less businesses, Phenix is mostly the same as it was in the 1980s. Kids are less active to say the least, but that's about it. And that's where your imagination comes in. I never found Phenix boring. There was always something to do, somewhere your imagination could take you if you were willing to allow it.
There's a quote by American novelist and essayist Flannery O'Connor that goes, "Anybody who has survived his childhood has enough information about life to last him the rest of his days."
CHAPTER 3 – ROBBIE, JUNIOR
Weighted down by old notebooks and pictures I have a child's journal given to me one year as a Christmas present. The questions are capitalized in bold. The answers follow underneath on a long straight line written by a No. 2 pencil that, as the years have passed, has all but faded.
WHAT HOBBY DO YOU ENJOY DOING AFTER SCHOOL?
I like to play basketball and baseball and ride my bike at the court.
WHO IS YOUR BEST FRIEND?
My best friend is Robbie Hunter Hancock, Jr.
No matter how faint the pencil mark in my response has become over time, the answers might as well be written in ink or etched in stone for that matter.
Please bookmark this page and check back often for updates…