For anyone complaining about the Ty Jerome double dribble no-call during last night's Virginia vs Auburn Final Four game, here are a few other non-calls that took place in the final minutes of UVA's 63-62 win over Auburn to reach the National Championship — non-calls, I may add, that should have gone Virginia's way, but didn't.
I'm a University of Virginia graduate, so if you'd like to say I'm biased, feel free. Personally, I'd like to enjoy our run to the National Championship game without hearing from a bunch of poor sports on the Internet or seeing via Twitter sports analysts and commentators such as Dick Vitale, Mike Greenberg et al in sports media creating unnecessary drama over a non-call.
As a lover of basketball, and someone who has played basketball his entire life, I'd like to state the obvious: refs are human and refs aren't perfect — just like the rest of us.
So, if you're one of those folks complaining, or if you're one of those folks like me who are tired of hearing people be poor sports, ask those very people their thoughts on the following non-calls:
Non-call #1
Blatant arm grab by Auburn on a driving Deandre Hunter at 3:09 left in game. Result: Non-call by refs which led to Kihei Clark drive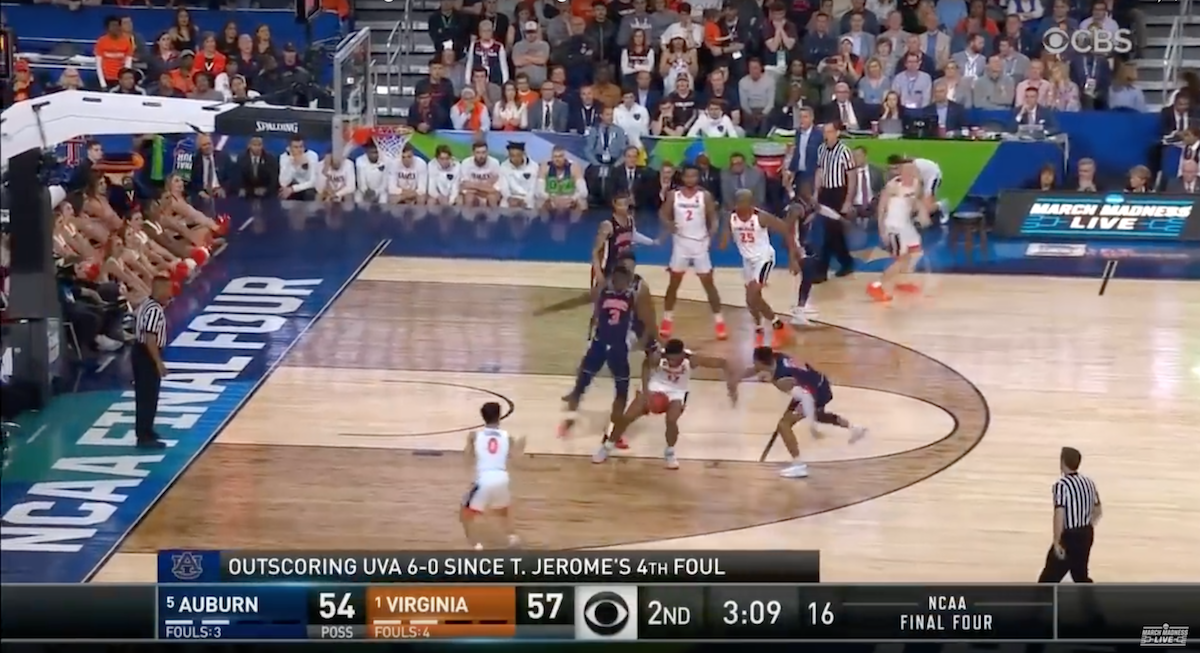 Non-call #2
Following the non-call arm grab, Hunter kicks it to 5'9" Kihei Clark who drives to the hoop and gets blocked by Auburn.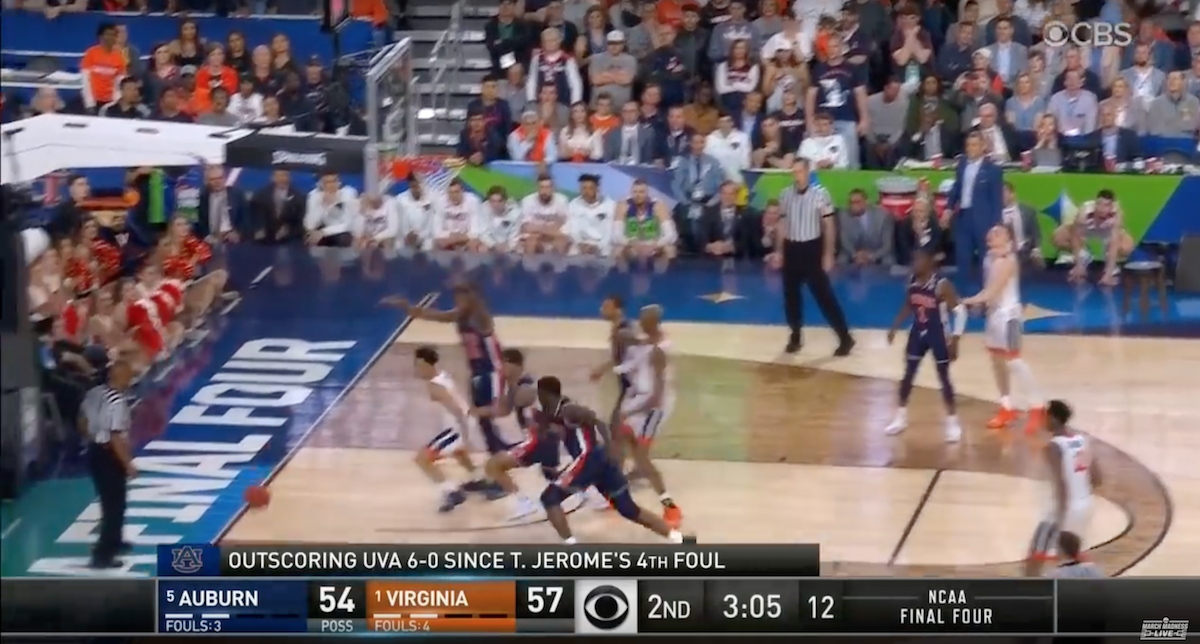 If you slow the clip down to 0.25 playback speed (you know, because refs have that superhuman ability in real-time), you'll notice the ref is right there as the ball hits the line, meaning out of bounds on Auburn. It's UVA ball on an inbounds, still up by three points. However, the out of bounds is not called. Auburn gets the ball, goes down the court, and subsequently scores as part of their comeback.
Non-call #3
Then there's the infamous Ty Jerome double-dribble non-call that everyone keeps pointing to. What those complaining fail to mention, however, is the intentional foul Auburn is going for (and succeeds in doing… it just wasn't called) as Jerome makes his way up court.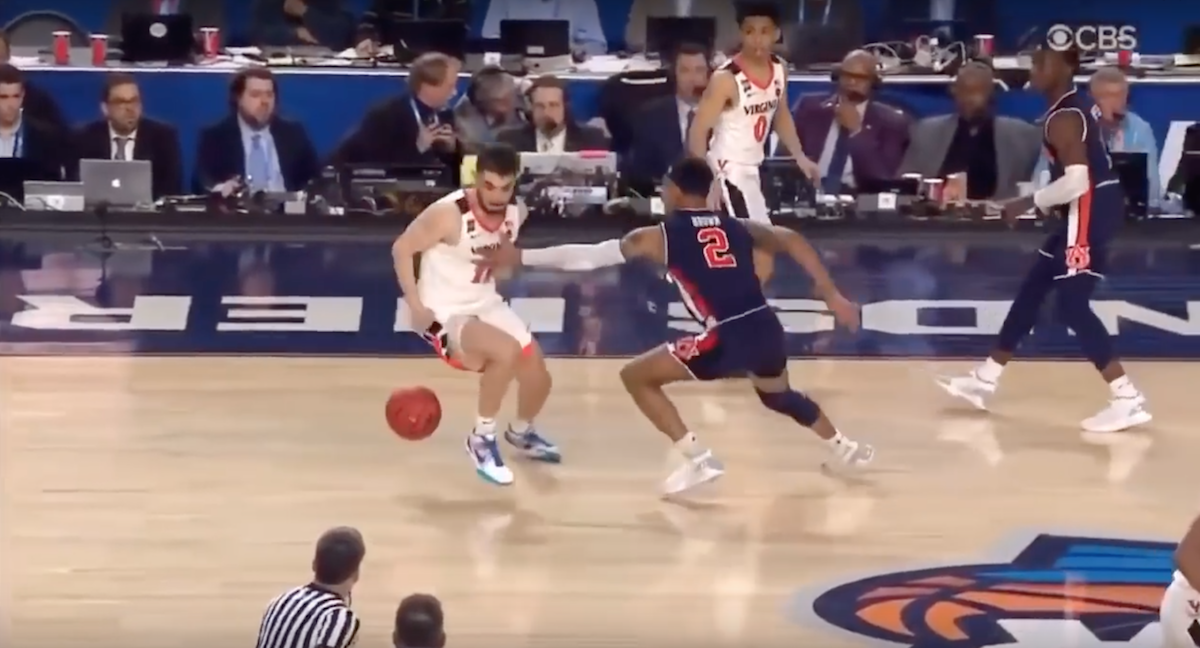 The Auburn player, Bryce Brown (who later showed poor sportsmanship after the game saying, "The NCAA needs new refs") grabs Jerome's jersey as Jerome goes behind his back. Not only did the refs fail to call the intentional foul on Auburn, after UVA's Jerome is fouled and loses the ball, he makes a head smart play to re-gather the ball and continue down court where he is again intentionally fouled.
Is it technically a double-dribble if Jerome picks up the ball? Yes, and I thought so in real-time as I watched the game. What I didn't see was the jersey pull at the same time by Auburn's Bryce Brown. Neither did the refs apparently, or if they did, they swallowed their whistle.
Is it a double-dribble if Jerome loses the ball due to being fouled? No, it's a loose ball foul on Auburn.
So, you can't exactly complain about the double-dribble if you don't also point out that Jerome couldn't get to the ball with one hand because his jersey was being held.
In the end, for anyone who has ever played a competitive sport, you realize that refs are human and mistakes are made. In this game, there's a fair share of calls that were missed. But that's any game. Everyone knows about Chris Webber's infamous timeout when Michigan had no timeouts. What most people forget today is that Webber had already traveled prior to calling the timeout.
Or, how about RJ Barrett's push in the back against UCF?
Or, Auburn's no-call on Florida in the SEC semifinal game where three Auburn Tigers absolutely mauled the Florida shooter with 1.9 seconds left?
Sport happens.
Share this link on Twitter, Facebook, and YouTube in the comments section if you see someone bellyaching.
Oh, and go Hoos!
Never miss another post. Get updates by email.