[stag_dropcap font_size="75px" style="squared"]T[/stag_dropcap]here's nothing that makes me feel more like a failure than sitting down to write this story.
"Maybe you need to reframe your mindset as to what constitutes failure," my wife said to me. She sat across from me on the couch, a book open before her.
Dispirited, I sat in my rocking chair with a notebook splayed open and a large blue binder filled with copious notes, scribbled in margins, and a couple hundred pages freshly printed, locked tight within the metal spirals inside — a book of my own, an unfinished reminder.
Many of the words date back almost fifteen years to July 2003, when the story began being written; but I guess that's not entirely accurate. The story itself, most of it anyway, was written long before in our childhood, growing up in a small town in the 1980s.
"There are the obvious challenges I've always struggled with. The usual suspects: structure, arc, internal motivation, etc. And while I know the beginning, middle, and end, how to take it all, layer it, and make the narrative cohesive, from start to finish, it's a struggle, plain and simple."
"Maybe you should set it aside for a while."
"Not this time. I've sat it aside for more than a decade now. I don't want to do that any longer. It's ripe now. I need to pick the fruit. I want to face it now. I want to make sense of it all. Otherwise, it'll keep doing what it's always done, whether it's hidden away in a desk drawer or not. This constant reminder that will keep speaking to me until it is complete… What I really think is at play is subconsciously, and I used to be aware of this on a conscious level many years ago, is that I don't want the story to be finished. If it's unfinished, there is no last page to turn. No final period. No end. It can continue. I think I'm scared to finish it for that very reason. Writing this story, this book, whatever you want to call it, keeps it alive: Jeremiah, our childhood. It can live on indefinitely. But won't it do so regardless? I think that's what I'm realizing again after all this time."
William Faulkner once wrote, "The past is never dead. It's not even past."
It wasn't until last week I grasped the meaning.
What's your experience or advice? Share it in the comments below.
Thanks for reading.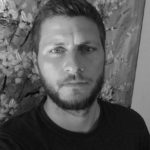 Written by Jeffrey Pillow, author of the coming-of-age memoir in progress When the Lights Go Out at 10:16, which you can read on this blog as it's being written. When the Lights Go Out at 10:16 is a story of growing up in small town America in the 1980's in a teeny tiny town known as Phenix, in Charlotte County, Virginia. It is a story of life and friendship in the face of terminal cancer. Want to read more blog posts? Visit the blog archive. You can also subscribe to this blog to receive updates of new posts by email. Or, follow me on Twitter (I just re-joined).
Photo by Michael Weidner on Unsplash